People are injured on the job everyday. Whether it's a motor vehicle accident, a fall, a construction or building accident, or some other type of work related accident, the accident victim has rights and needs legal representation. The lawyers at Bodkin & Mason, LLP have helped hundreds of people who have been injured in the course of their employment.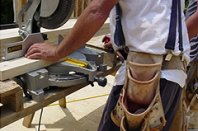 If you have been injured on the job – you have rights and are entitled to compensation. Contact attorneys experienced with work site injury cases like the attorneys at Worcester-based Bodkin & Mason, LLP.
Bodkin & Mason, LLP has successfully handled all types of work-related injuries including:
Falls from Ladders and Scaffolding
Falls from Roofs
Injuries from Tools and Equipment
Lifting Injuries
Slip and Fall Injuries
Electrocution
Crushing Injuries
Hazardous Materials or Machinery
Burns or Explosions
Excavation and Aerial Lifts
Unprotected Flooring
Loading or Stacking
All Types of Work Related Injuries
Work site accident cases are frequently related to:
Protect your rights. Contact Bodkin & Mason, LLP, experienced work site accident lawyers who are ready to fight for you.