Motorcycles are a great form of transportation and recreation. Unfortunately, many riders are severely injured each year due to inattentive motorists and unsafe drivers. The consequences of a serious motorcycle accident can be substantial and affect the injured party and their family for a lifetime.
Bodkin & Mason, LLP has successfully represented many motorcycle operators and passengers obtaining significant compensation for injuries suffered in motorcycle accidents.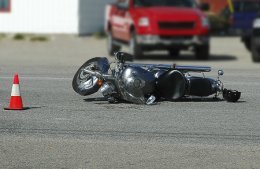 "Our client sustained a severe leg fracture in a motorcycle accident. As experienced motorcycle accident attorneys, we settled the case promptly for the maximum amount of insurance available, plus additional funds from the defendant. Our client received $175,000 in compensation."
If you or a loved one has been injured in a motorcycle accident you may deserve compensation for medical expenses, lost wages, pain and suffering, property damage, emotional distress, permanent disability, scarring and other damages. Protect your rights. Contact an experienced motorcycle accident lawyer that is ready to fight for you. Contact Bodkin & Mason, LLP.
Worcester lawyers, Thomas Bodkin and Christopher Mason, specialize in all types of motor vehicle accidents to include:
Car Accidents
Motorcycle Accidents
Truck Accidents
Commercial Vehicle Accidents
Pedestrian Accidents (including Injuries to Bicyclists)
Drunk Driver Accidents
ATV & Jet Ski Accidents
Boating Accidents
Bus Accidents
Personal injury topics frequently related to motorcycle accident cases are: