Doctors and other health care professionals work hard to do the best they can for their patients. But sometimes, they make terrible mistakes. If you or a loved one has been injured by a doctor, hospital or some other type of medical provider, you should contact the experienced lawyers at Bodkin & Mason, LLP without delay.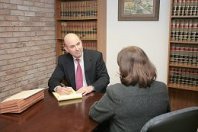 Bodkin & Mason, LLP will carefully review the potential medical malpractice case and work closely with the injured party and their family to determine what went wrong and why. Medical negligence can have catastrophic results. The lawyers at Bodkin & Mason, LLP will work hard to protect your rights and get the compensation you deserve. Contact Bodkin & Mason, LLP.
Bodkin & Mason, LLP can help you and your family with all types of Medical Malpractice, to include:
Failure to Diagnose Cancer
Birth Injuries
Surgical Errors
Pharmacy Mistakes
Misdiagnosis of Illness or Disease
Emergency Room Errors
Long Term Care Injuries and Neglect
Medical malpractice cases are frequently related to:
Protect your rights. Contact experienced medical malpractice lawyers Bodkin & Mason, LLP. who are ready to fight for you.