It is getting darker earlier these days, signaling the start of winter and the snow and ice season.  As personal injury attorneys, we have a heightened awareness of the types of accidents that commonly occur this time of year in Central Mass. For example, we know that pedestrian accidents will be on the rise. The darkness hides those who are on foot. The snowdrifts  hide those who are on foot. Snowdrifts cause double parking here in Worcester, MA and extra vehicles in the road hide those on foot. Slush and frozen sidewalks make walking a challenge, even when walking in designated walking areas.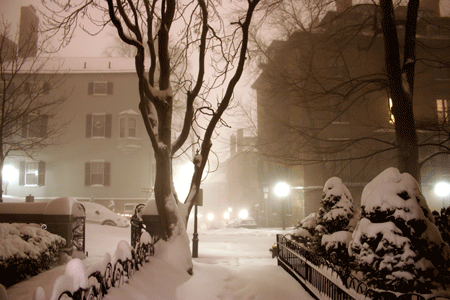 According to this 2014 report by NHTSA.gov, pedestrian accidents have been on the rise nationwide.
"In 2012, 4,743 pedestrians were killed and an estimated 76,000 were injured in traffic crashes in the United States…On average, a pedestrian was killed every 2 hours and injured every 7 minutes in traffic crashes." (Traffic Safety Facts: Pedestrians, April 2014) – (PDF 1.20 MB)
The Fatality Analysis Reporting System (FARS*) reports fatality statistics for 2013 as:

| # | Type | Location |
| --- | --- | --- |
| 4735 | Pedestrian fatalities | nationwide |
| 743 | Pedalcyclist fatalities | nationwide |
Clicking through to more detail,  we learn that while pedestrian fatalities for Massachusetts declined 15% from 2012 to 2013, for the same period, they increased 43% here in Worcester County.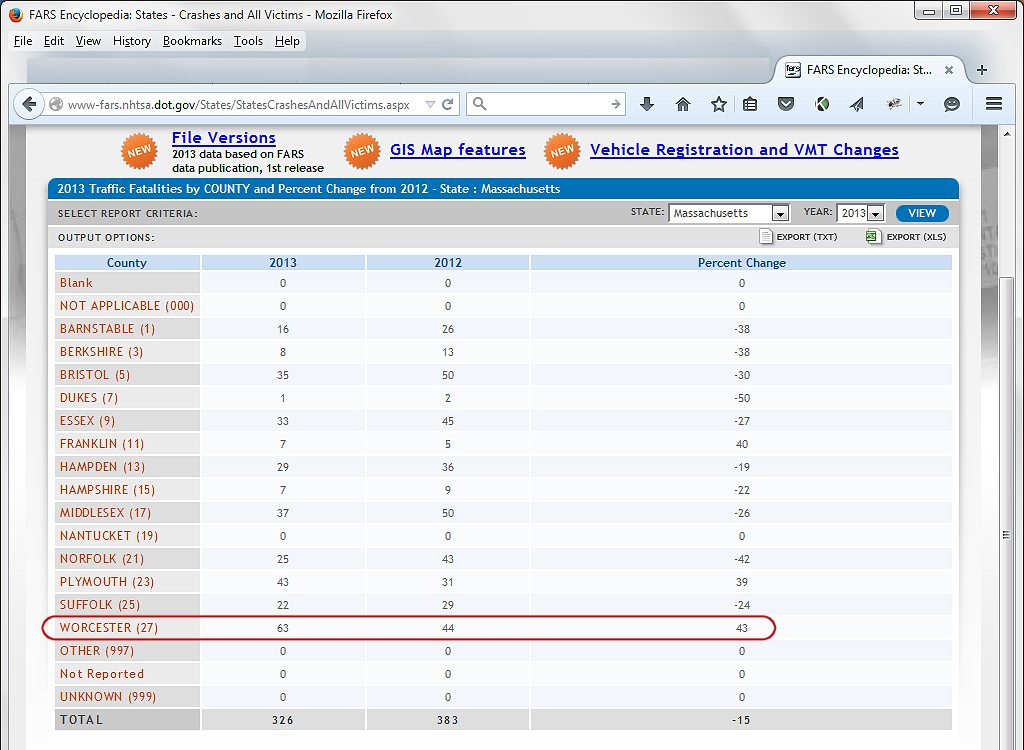 Recent pedestrian accidents in the Worcester area show no consistent pattern of behavior that a pedestrian can avoid, nor consistent injuries resulting from similar accidents.
Nov. 23, 2015 – Worcester Police Dept. responds to MV accident on Millbury St…
Upon arrival police observed a 26-year-old Worcester man suffering from head and leg injuries. The male victim was attempting to cross Millbury Street when he was struck by a dark colored small vehicle. The vehicle did not stop.  (WPD FB page)
Oct. 12, 2015 – 17 Year Old Girl Hit by MV on Hamilton St…
A 33-year-old male from Hudson was traveling west on Hamilton Street. He stated that he was blinded by the solar glare when he struck the pedestrian. The pedestrian was struck while in a crosswalk as she attempted to cross Hamilton Street. (WPD FB page)
Sept. 1, 2015 – Worcester MA Police Log
"…pedestrian accident that occurred near 1350 Main Street…The [11 year old] girl was attempting to cross the street in the crosswalk when she was struck by a Toyota Senna minivan near the centerline of the roadway. "
In July,  a man from Worcester was struck by a motorcycle while walking on Lincoln Street and suffered serious head injuries
In May, two pedestrians were struck by a tractor trailer in Kelley Square, leaving one dead and one with serious foot and leg injuries
The Worcester police department has been running its Operation Safe Cross initiative since 2009 to raise awareness about drivers' responsibilities when pedestrians step into the street.
 So, how do you  keep yourself safe when walking? Here's some safety tips for pedestrians.
Walk in designated walking areas (sidewalks). Walk along the shoulder facing traffic if there is no sidewalk.
Wear reflective clothing, walking shoes or gear.
Use a flashlight if walking at dawn, dusk or in the dark.
Be vigilant for vehicles. Remember every vehicle has blind spots
Look both ways before crossing.
Cross the street in designated areas like in crosswalks or at street corners with street lights.
Cross with the Walk signal or Green light.
Never cross in between two parked vehicles or from behind an obstructed view like a large box truck
* FARS is a nationwide census providing NHTSA, Congress and the American public yearly data regarding fatal injuries suffered in motor vehicle traffic crashes.